Seelos Events Worldwide
St. Mang Basilica, Füssen Germany

St. Mang Basilika is open. Please keep 1.5 metres away from others wishing to pray.
Mass Times
Saturday 1800hrs 1st Mass of Sunday

Sunday 1030hrs
Monday 0830hrs
CHRISTMAS MASS TIMES
24 DECEMBER 2020 HEILIGER ABEND
1400hrs Children's service, St. Mang
1630hrs Children's service for Holy Evening (in the Baumgarten, weather permitting, otherwise in Acht Seligkeiten Church, West Füssen)
1700hrs Children's service, St. Mang
1730hrs Christmas Mass, Franciscan Church of St. Stephan
1830hrs Christmas Mass, St. Mang
2100hrs Christmas Mass, Franciscan Church of St. Stephan
2230hrs Christmas Mass, St. Mang
25 DECEMBER 2020 CHRISTMAS DAY 1
0900hrs Christmas Mass, Franciscan Church of St. Stephan
1030hrs Christmas Mass, St. Mang
26 DECEMBER 2020 CHRISTMAS DAY 2
0900hrs Christmas Mass, Franciscan Church of St. Stephan
1030hrs Christmas Mass, St. Mang
27 DECEMBER 2020 FEAST OF THE HOLY FAMILY
0900hrs Mass, Franciscan Church of St. Stephan
1030hrs Mass, St. Mang
FOR ALL SERVICES AT CHRISTMAS YOU MUST REGISTER ONLINE OR BY PHONE (More information later)
---
St. Mary's Assumption Church, New Orleans, Louisiana, USA
Featuring the National Shrine of Blessed Francis Xavier Seelos, C.Ss.R.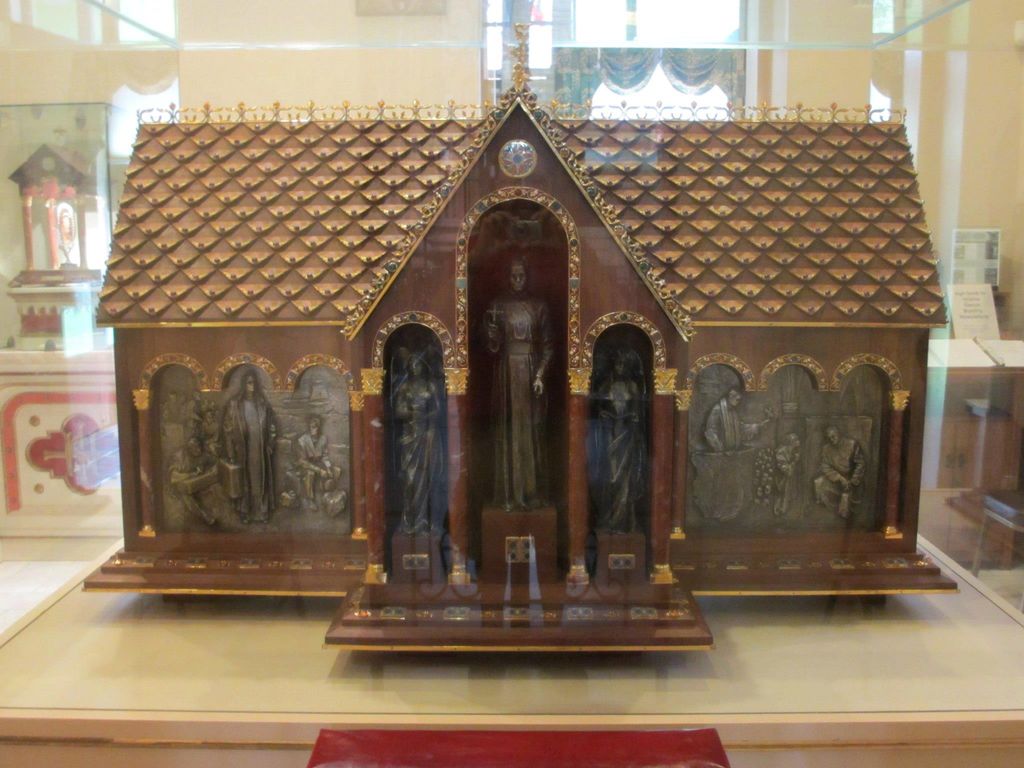 Mass Times
Saturday 1600hrs 1st Mass of Sunday

Sunday 1030hrs (Also live streamed)
Thursday 1100hrs
Seelos Healing Mass
Sunday January 10th 2021 1300hrs
Monday January 11th 2021-Seelos`Birthday & Celebratory Fundraiser
FOR MORE INFORMATION: +1 504-525-2495 or www.seelos.org
---
Shrine of St. Peter & St. Paul, Cumberland, Maryland, USA
Mass Times
Every Wednesday at 1830hrs
CHRISTMAS MASS TIMES
DECEMBER 24th 2020-Christmas Eve
1400hrs
1600hrs
1800hrs
DECEMBER 25th 2020-Christmas Day
1000hrs
The above Mass times could be subject to change or cancelation depending on laws and decrees in existence at the time due to COVID 19. Seating will be limited. The Church will open 30 minutes before Mass. Seating will start form the rear of the church and you must sit where you are told to. No reserving seats for other family members is allowed.
FOR MORE INFORMATION: www.friendsoftheshrine.com
---
Blessed Francis Xavier Seelos Parish, Spanish Fort, Alabama, USA
FOR MORE INFORMATION: 251 288 4500 or francisxseelos.org
---
Blessed Francis Xavier Seelos Parish, New Orleans, Louisiana, USA
FOR MORE INFORMATION: 504 943 5566 or seeloschurchno.org
Eucharistic Renewal Books
Bryan Sidney Storey Catholic Priest Tintagel,Cornwall,UK
Priest of the Arundel & Brighton Diocese
Born:8th May 1933-London
Died:26 July 2018-Truro,Cornwall
Father Bryan Sidney Storey was born 8th May 1933 in London.He was the oldest son of Dorothy & Sydney Storey,he also has a younger brother Keith,who died a few years ago. He was evacuated to Cornwall with his schoolmates in 1940.He and his brother Keith stayed with Rita Deacon(Auntie Rita) and her son Roger,who lived in Bossiney Road,Tintagel.He attended St Materiana Anglican Church in Tintagel every Sunday and was greatly influenced by Canon Arthur Cuthbert Canner.It was here he soon discovered his belief in God.In 1948 he converted to the Catholic faith.After having worked in various London accountancy firms,he did his two year compulsory military service in the R.A.F. as a clerk.
He was accepted for training in the Catholic seminaries of St Augustine's, Walworth, London and St John's, Wonersh, near Guildford, Surrey (1953- 1960).
Father Bryan

was ordained on the 16th June, 1960 at St Anselm's Church, Tooting Bec, SW London, by Archbishop Cowderoy for the Diocese of Southwark.He served 11 years as a curate at the Parish of St Peter in Portland Road,Hove.During this time the new Diocese of Arundel & Brighton was formed,he became a priest of A & B Diocese on 14th June 1965.
Due to personal circumstances he moved to Cornwall in 1971.It was meant to be a temporary move but lasted over 47 years!For two years he helped the Canons Regular of the Lateran based in Bodmin,to serve 16 mission stations in Cornwall.He was allowed in 1973 to be Priest in Charge of the C.R.L. Mission in Tintagel. In 2000 the Canons Regular of the Latern (C.R.L.) left Bodmin due to decreasing vocations,Father Bryan stayed on!These were extremly hard years for Father Bryan as Priest's did not get a salary.He lived as the poor do.He found a little flat in Trewarmett run by Roger Deacon and his wife Pat.He lived there for many years before buying his own little cottage in Trewarmett and then finally building Chy an Pronter(Priest's House in Cornish),and living his final years next to the church he had served and loved so well.The Mission is not small and in his younger days Father Bryan would cycle everywhere in the Parish visiting his Parishioners and searching out those who had lapsed through the Legion of Mary.He also founded the International Crusade for Moral Reform and ran Eucharistic Renewal Books.Father Bryan used to love writing letters on subjects that interested him.He appeared on many local radio stations throughout the UK and was even given a 5 minute slot on Channel 4 so he could have his say on morality.Many in the media labelled him a contraversial priest because of his conservative views,but those who knew him well,saw deeper into the heart & soul of the priest.He was a man of faith,which showed by his actions towards others.He would be the first to ask everyone to pray for the repose of his soul as he was a great sinner.But this great sinner lead many to repentance,many converted to the Catholic Faith because of his love,life and great belief that God had greater things for all of us if only we would open our hearts to him.He had a great love for the Blessed Sacrament and spent many hours kneeling in prayer in front of the tabernacle in deep prayer.The confessional was also a very high priority in his life,not only did he confess regulaly,but he made himself available at all times for those in need of the Lord's mercy.In 2010 he celebrated his Golden Jubilee of the Priesthood at St Paul the Apostle Catholic Church in Tintagel,Cornwall.The last few years Father Bryan suffered from two different types of cancer,Parkinson's Disease and finally he broke his hip and died due to complications caused by pneumonia.
Please pray for the Repose of his soul.
Myke Rosenthal-English(Personal friend for over 59 years & former Media Secretary to Father Bryan)