Life of Blessed Francis Xavier Seelos
BLESSED FRANCIS XAVIER SEELOS
Blessed Francis Xavier Seelos, born in Füssen, 11th January 1819.His father was a Textile merchant and his son was baptised the same day as his birth.He was the 6th of 12 children born to Mang and Frances Schwarzenbach Seelos.He was named after St Francis Xavier. They lived at Spitalgasse 13(184 in those days due to house numbering in Füssen), along from the Spitalkirche on the opposite side of the road.A plaque has been placed on the house to show he was born there and it's importance to Füssen.
The Spitalgasse & house where Blessed Francis Xavier Seelos was born.The plaque below is on the front of it.
On the day of his birth,he was baptised in the Parish Church of St Mang(below)
This is the baptismal font in which he was baptised (below)
When Blessed Francis Xavier Seelos was 11 years old his father became Sacristan of St Mang Basilica.This was due to the Industrial Revolution in the UK.The new textile process used there meant that Francis father could no longer make a living.By God's grace he found a job as sacristan of St Mang following the death of the previous sacristan.(3)
Francis noted all these things and later told his mother that their desperate plight had made him more understanding of the needs of others.He was always grateful that his mother prayed the rosary daily with the family.
House of the Sacristan of St Mang(Photo above)
His sister Kunigunda,died at the age of 18,she was helping to lift hay into the top window,which was then the hayloft,when she lost her balance and fell hitting her head on the courtyard 3 floors below,her last words as she fell were "Ambrose!Ambrose!I'm falling!Jesus,Mary & Joseph!" as she lost consciousness due to her fatal injuries she proclaimed "Lord I am not worthy" .She died 3 hours later.Next day Mang Seelos suffered a stroke.
Francis was confirmed before he made his 1st Holy Communion on 3rd September 1828 by Bishop of Augsburg,Iganz Albert v. Riegg,.Nearly two years later at the age of 11,he made his 1st Holy Communion on the 2nd April 1830.
St.Mang Basilica as it is today.
The boys school Francis attended between the age of 6 and 12 years was located on the second floor of this building.It now houses the Indoor Market on the ground floor.It was origionally called the "Kornhaus".It was then a marketplace for grain,after that it became the Fire Station.Up 60 boys attended the school when Francis was there. He attended this school from 1825-1831.
It is located on the Corner of Schrannengaße and Brunnengaße.(2)
Each day before school at 0730 hrs Mass was celebrated in the Krippkirche,St Nicholas and Francis Xavier regulaly served the Mass,Francis Xavier Seelos owes a lot to his mother's piety,from her he learned the love of prayer and a deep devotion to Our Lady. The family were never rich and when the Industrial Revolution started in England,it made life even harder for the family as Mang was a weaver by trade.In the summer of 1830,the sacristan of St Mang died and Francis Xavier's father,Mang,got the job and was also able to move into the sacristan's house which was far larger than where they had been living on the Spitalgasse.After he left the junior school in Füssen he was helped by Father Franz Anton Heim,the new Parish Priest of Füssen.Father Heim arranged for the Priest in charge of the Heilig- Geist- Spitalkirche(Hospital Church of the Holy Spirit), to tutor him in Latin.So in 1831-1832 Francis Xavier Seelos learnt Latin.
Heilig-Geist-Spitalkirche
This enabled him to join the 2nd year at St Stephan's Grammar School in Augsburg. This not only saved high education fees for a year but allowed him to go a class higher.Life was not easy for him as he had to eat his meal at different houses each day and had a piece of bread for his breakfast and evening meals!But with the help of a scholarship from Füssen City and sparse living and prayer,he survived!
He graduated from there at the age of 20.He left Füssen for good at the age of 23. He then went to the University of Munich,where he completed his studies in Philosophy.
He entered the Diocesan seminary on 19th September 1842 and started his studies for the priesthood.He wasn't to stay there long.He met some Redemptorists and became very interested in their way of life and mission.They had been founded to evangelise the most abandoned and down-trodden.He was so taken by the charism of the order that he joined it on November 22nd 1842.He had joined the Congregation of the Most Holy Redeemer ,so as to be able to help the German speaking immigrants in the United States of America.Many had left Germany to travel there for a new life.When they got there,they found that there spiritual needs were not adequtely cared for.It was his longing to help them that eventually saw Francis leave Germany for America.On the Feast of St Patrick,March 17th 1843 he left the port of Le Havre,France.He never went to visit his family before departing,instead he informed them in a letter.
He arrived in New York on 20th April.
Francis always claimed from an early age that he had a vocation to become a priest.So it was, on the 22nd December 1844,having completed both his Noviciate and studies,he was ordained a Priest at the Redemptorist Church of St James,Baltimore,Maryland,USA.
A couple of months after his ordination he was posted to the Parish of St Philomena in Pittsburgh.He was to stay in this post for 9 years.His first Parish Priest was St John Neumann and he was Assistant Pastor under the Saint for 6 years.St John Neumann was Superior of the order.Francis took over as Superior and Pastor of the church for the next 3 years.He also became the Redemptorist Novice Master.
He had a great understanding and love for St John Neumann and the two of them preached many missions together.
It was in the Parish of Pittsburgh that Blessed Seelos became renowned for healing the sick and suffering members of the community.He would go with them into the church and pray with them at the Lady Altar.He would then give them a blessing.Many cures were reported due to the prayers of the Blessed.
The teaching of the faith to children was one of the most important things he could do in his ministry.He strived at all times to do this so as to allow the Christian Church to grow in the community.He was kind and understanding and people travelled miles and waited hours to have him hear their confessions and be their Spiritual Director.It was claimed by many that Francis had the ability to read hearts.
He was transferred in 1854 to St Alphonsus,Baltimore as Pastor and again in 1857 to St. Peter & St Paul Church,Cumberland as Pastor and prefect for the students
and in 1862,he was made Rector to St Mary's Church and Novitiate, Annapolis,Maryland.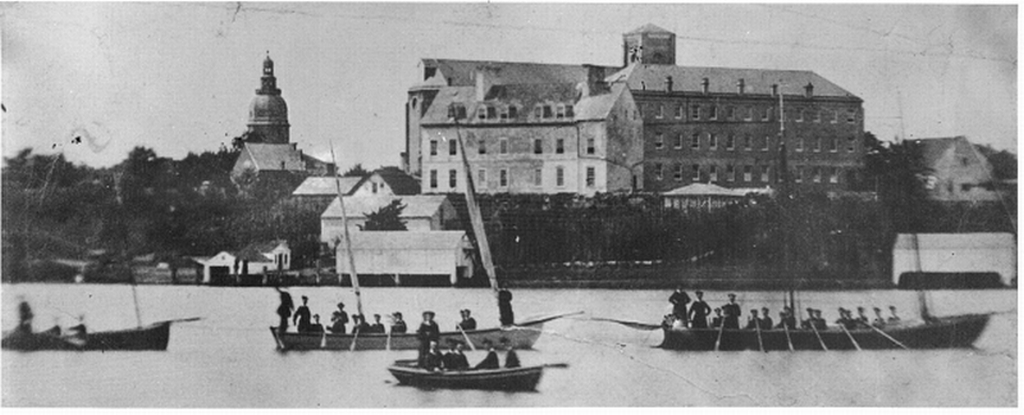 Saint Mary's Church and Novitiate, 1864. During his rectorship of St. Mary's (1862-63), Blessed Franz Xaver Seelos established a fleet of sailboats to be used for recreation by the Redemptorist priests, brothers, and novices. Courtesy: Redemptorist Archives of the Baltimore Province, Brooklyn, New York.
Throughout his life Francis had a great love for Our Lady.He asked his two unmarried sisters regulaly to pray for him at the Shrine of Our Lady of the Mountain(Frau am Berg Kirche).He told his brother that he had been told by Our Lady he was going to be a missionary in America.
Photo of the Frau Am Berg Kirche
All during this time he made confession easier for people.He could hear confessions in Deutsch,English & French,he also didn't worry about the colour of a man's skin.Anyone was welcome to come to this priest who lived a simple life and was able to communicate with all,no matter how life had treated them.His name was even put forward to be Bishop of Pittsburgh.He wrote personally to the Holy Father,Pope Paul IX saying he was not adequate to accept such an esteemed post.Francis was over-joyed when someone else was named to the post.
When he was in charge of St Peter & St Paul Parish in Cumberland and prefect of the Redemptorist seminarians he would often get them to sing his favourite hymn to Our Lady.
[Our Lady of Bavaria Shrine on the Calvary Mountain Meadow.(Photo Below)Blessed Francis Xavier Seelos had a great love for the Patron of his homeland State,Bavaria.This shrine was not built when he lived in Füssen.]
Blessed Francis Xavier Seelos died in New Orleans suffering from Yellow Fever on 4th October 1867.
He was Beatified by Pope John Paul 2 on 9th April 2000.Many members of the Füssen congregation made a pilgrimage to Rome to be there for the great occasion. He was reburied in St Mary's Assumption Church New Orleans in October 2000 after a funeral Mass at the Cathredral.On the way tos St Mary's he was Given a Police escort.(1)
More to follow about the life of Blessed Francis Xavier Seelos soon
Vatican Site Info on Blessed Seelos
Homily of Pope John Paul II at the Beatification Mass
Shrine of the Blessed Seelos in St Mang Basilica,Füssen.
BLESSED SEELOS FAMILY DOCUMENTS
Family documents of Blessed Francis Xavier Seelos can be viewed in Aschenbrenner Haus in the Hutegasse on Tuesdays & Fridays between 1600hrs-1800hrs. (See Photo to help you find it.It is right next to the St Mang Fountain in the centre of town.)
-----------------------------------------------
150 YEARS OF HISTORY AND BLESSED SEELOS TOO

American author,Dr.Robert L.Worden presented Monsignor Karlheinz Knebel on behalf of the Parish, a copy of his book
"St Mary's Church in Annapolis,Maryland.
A Sesquicentennial History .1853-2003"

In his book he gathers all available data on the times that Blessed Seelos spent there in his ministry.It is of great importance to Füssen as Blessed Seelos was born,Baptised,Confirmed,made his 1st confession and communion here as well as serving daily Mass.
Dr Robert Worden has been archivist and historian at St Mary's since 1982.He gained a PhD at Georgetown University in 1972.He has lived in Annapolis since 1971. Father John Kingsbury CSsR,Parish Priest of St Mary's,told us "He is our parish archivist but it is a labor of love and he is not on our paid staff."
-------------------------------------------------------------------------------------------------------------------
EXECUTIVE DIRECTOR OF INTERNATIONAL SHRINE CONGRATULATES THIS SITE
Father Byron Miller C.Ss.R.Executive Director of The International Shrine of St Francis Xavier Seelos has congratulated the New St Mang Website in English.
The Shrine is based at St Mary's Assumption Church in New Orleans.A museum to Blessed Seelos,containing relics and memorabilia is located in a room behind the main altar.
Father Byron runs the Shrine and contacted us via email.He told us :

Congratulations! It is a great site and a wonderful service for those of us who don't speak German. I appreciate you letting me know about it and, in time, I will put the link on our website as well as call attention in our monthly Seelos Newsletter.



My greetings and blessings to all at St. Mang's faith community.




fr byron miller, cssr
We are greatly honoured to have Blessed Francis Xavier Seelos as one of the Patrons of the Basilica.The fact that Füssen was his birthplace is another wonderful reason to look further into the life of this great Blessed and to try and emulate his life of service to God and others.
The Shrine in New Orleans where Blessed Seelos died at the age of 48 years 9 months due to yellow fever,is open daily;
Monday to Friday :0900hrs-1500hrs
Saturdays:1000hrs-1530hrs
For more info visit : http://www.seelos.org/shrineMuseum.html
For Newsletters the Shrine publish monthly click here:
References
1)October 2007 "Seelos Newsletter" & Earl J.Higgins-The Joy of Y'at Catholicism(Pelican Publishing Company 2007)
2)"A life of Blessed Francis Xavier Seelos" by Carl W. Hoeger,C.Ss.R. & Alicia Von Stmwitz-(Redemptorist Publications)
3)Katholisches Staptpfarramt St. Mang,Füssen -"Seliger Franz Xaver Seelos aus Füssen" Von Karlheinz Knebel
Father Bryan Sidney Storey RIP
Please pray for the Repose of the Soul of Father Bryan Storey founder of Eucharistic Renewal Books and Catholic Priest of St Paul the Apostle Church,Tintagel,Cornwall,UK:
HE WAS RESPONSIBLE FOR GIVING US THE EUCHARISTIC RENEWAL DOMAIN